✓ Students complete the 9 Practice Your Handwriting Style Worksheets at the beginning of the school year.
✓ At the same time they complete a Practice Your Handwriting Style Name Card for their desk top.
✓ Students are then able to Practice Your Handwriting Style while completing their classroom assignments.
Each kit contains worksheet masters and a CD that allows you to print your own worksheets. You will not need to reorder expensive workbooks that stay at school. ez Write worksheets go home with instructions to allow parents to help their students.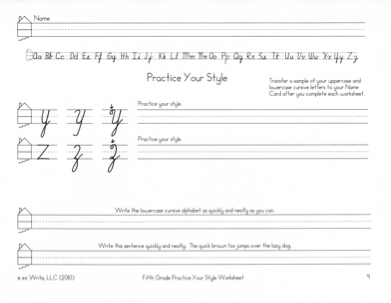 Students were introduced to the ez Write Portfolio in First Grade and will continue to record their monthly Alphabet Races and journal entries through Fifth Grade. The Portfolio is used as a formative assessment to monitor the student's progress in creative writing and handwriting speed (automaticity). The Teacher Portfolio is found in the Teacher Guide. The Portfolio is an important component to the success of the ez Write Program.