First Step Preschool Pilot
Teacher Testimonial
This handwriting program is fun and easy to use and has a progressive curriculum specifically designed for each level of learner.  It provides common language for teachers, parents and students as they move from one level to the next.  The 8 Beginning Strokes Book can be used at home and school to reinforce what the children are learning.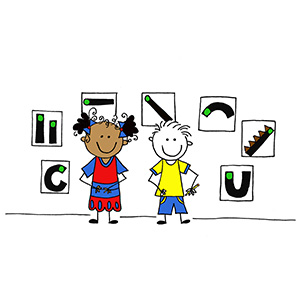 Level I
Stroke Recognition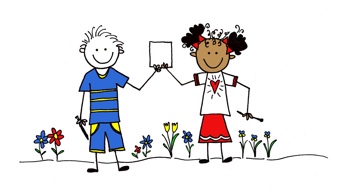 Level II
Beginning Writing
Level III
Kindergarten Readiness
Level I students will learn the 8 Beginning Strokes to "Muscle Memory".  The students are taught one stroke a month by having them trace the large 8 Beginning Stroke wall posters and completing fun activity sheets with crayon "nubs" along with fine and large motor enrichment activities, songs and games.
Level II students will learn all the parts of the House so they will know where to place their letters and numbers when writing.  All the activities at this level are tracing activities using the dot outline font.  Students will begin the year learning to write the strokes with crayon "nubs" and then will trace upper and lowercase letters in Beginning Stroke groups as they learn to hold their pencils with "Pinch", "Rest", "Tuck".  Using the 2-color name cards, the students will work on tracing their names the "school way".  Students will practice tracing and writing the numbers to 10 and will learn 6 basic shapes using the 8 Beginning Strokes.
Level III students work on kindergarten readiness skills.  They will review the terminology for the parts of the house and work on their pencil grips using the "Pinch", "Rest", "Tuck" technique.  Students learn to write the 8 Beginning Strokes, their names the "school way" and practice writing the upper and lowercase letters of the alphabet and numbers to 10.  Level III students will also work on drawing the 6 basic shapes and learning to draw ez Kids as an optional activity.
Sample Activity and Worksheets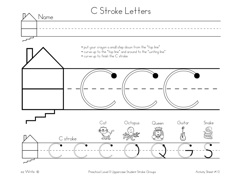 Fun and Informative Preschool Activity Websites
Below are samples of Level III Kindergarten Readiness students learning to write their names during the pilot program at First Step Preschool.
These students were introduced to ez Write in September.
Here are a few samples of the many preschool activity websites available for the preschool teacher!