✓ ez Write's continuous stroke formation helps make the transition to cursive "ez"
✓ Quick 10 minute lessons
✓ Students use the 8 Beginning Strokes they have already learned to "Muscle Memory"
✓ Most people who write cursive today use the "Print Writing" method, where a mix of print and cursive letters are used
In the ez Write Quick 10 Cursive Handwriting program, the letters are introduced in the familiar ez Write 8 Beginning Strokes groupings which the students have already learned. The program begins by teaching the Up the Steps Connector, followed by the Up the Steps Letters using strokes the students have already learned to "Muscle Memory."
Most cursive writing today uses a method called "Print Writing" where printing and cursive are combined. ez Write is designed around this method. This eliminates much of the instruction time needed to teach the conventional, more stylized, uppercase letters which are difficult to read and seldom used.
Students who have learned ez Write in K – 2nd
Grade will only need to learn the strokes in red to
be able to learn ez Write Quick 10 Cursive.
ez Write Quick 10* Cursive Name Card
*Worksheets only take 10 minutes to complete
Each kit contains worksheet masters and a worksheets. You will not need to reorder
expensive workbooks that stay at school.ezWrite worksheets go home with
instructions to allow parents to help their
students.
The program begins with a short stroke review. There are two differentsets of worksheets: The Cursive
Worksheets (45 lessons) are completed first and then the Cursive Review Worksheets (26 lessons), shown on the right.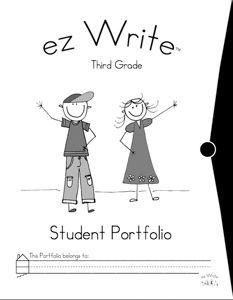 Students were introduced to the ez Write Portfolio in First Grade and will continue to record their monthly Alphabet Races and journal entries through Fifth Grade. The Portfolio is used as a formative assessment to monitor the student's progress in creative writing and handwriting speed (automaticity). The Teacher Portfolio is found in the Teacher Guide. The Portfolio is an important component to the success of the ez Write Program.